24/7 Tri-Cities & Yakima, WA Heating Repair
Trust a Licensed, Fully Trained, In-House Heating Team With Nearly 40 Years of Experience
When temperatures drop, you rely on your home's heating system to keep your family warm. And when your furnace or heat pump isn't working, trust Campbell & Company for reliable heating repairs in Yakima and the Tri-Cities.
Campbell & Company offers a full range of heating repair services, including gas and electric furnace repairs and heat pump repairs.
Don't wait for your heating system to fail completely — call the professionals at Campbell & Company at the first sign of heater trouble.
We offer 24/7 heating repairs!
Restore Your Heat Fast:
Local Experts in Heating Repair
Campbell & Company heating technicians are trained to perform repairs on a heating systems of various types and fuel sources, including:
Trust Campbell & Company as your go-to heating repair company in Yakima and the Tri-Cities!
Gas & Electric Furnace Repairs in Yakima, WA
---
The technicians at Campbell & Company are equipped to handle any furnace problem, from the simple to the complex. Common furnace problems we fix for our customers include:
• Pilot light won't stay lit
• Furnace is blowing cold air
• Furnace is cycling on and off (aka furnace short-cycling)
• Furnace won't turn on
• Furnace won't stop running
• Strange furnace smells
• Strange furnace noises (ex., thumping, whirring, buzzing, or whistling)
• Hot spots and cold spots throughout your house
Heat Pump Repairs
---
Heat pumps are highly efficient home heating solutions, but heat pumps can break down due to heavy use or poor maintenance. Trust Campbell & Company for heat pump repairs in Yakima and the Tri-Cities by trained, experienced professionals.
Our most common heat pump repairs include:
• Heat pump isn't heating the home adequately
• Heat pump is freezing up or icing up
• Heat pump isn't blowing warm air when in heating mode
• Strange heat pump noises
• Heat pump is running constantly
Our Trusted Heating Team
Each member of our team is highly trained and experienced, offering you a dependable source for unmatched workmanship when it comes to heating repair services.
We've been in the heating and cooling business for nearly 40 years, so we have the experience to handle even the most complex repairs.
Our A+ BBB rating, excellent satisfaction guarantees, and dedication to total heating mastery have made us the heating repair contractors Tri-Cities and Yakima homeowners trust!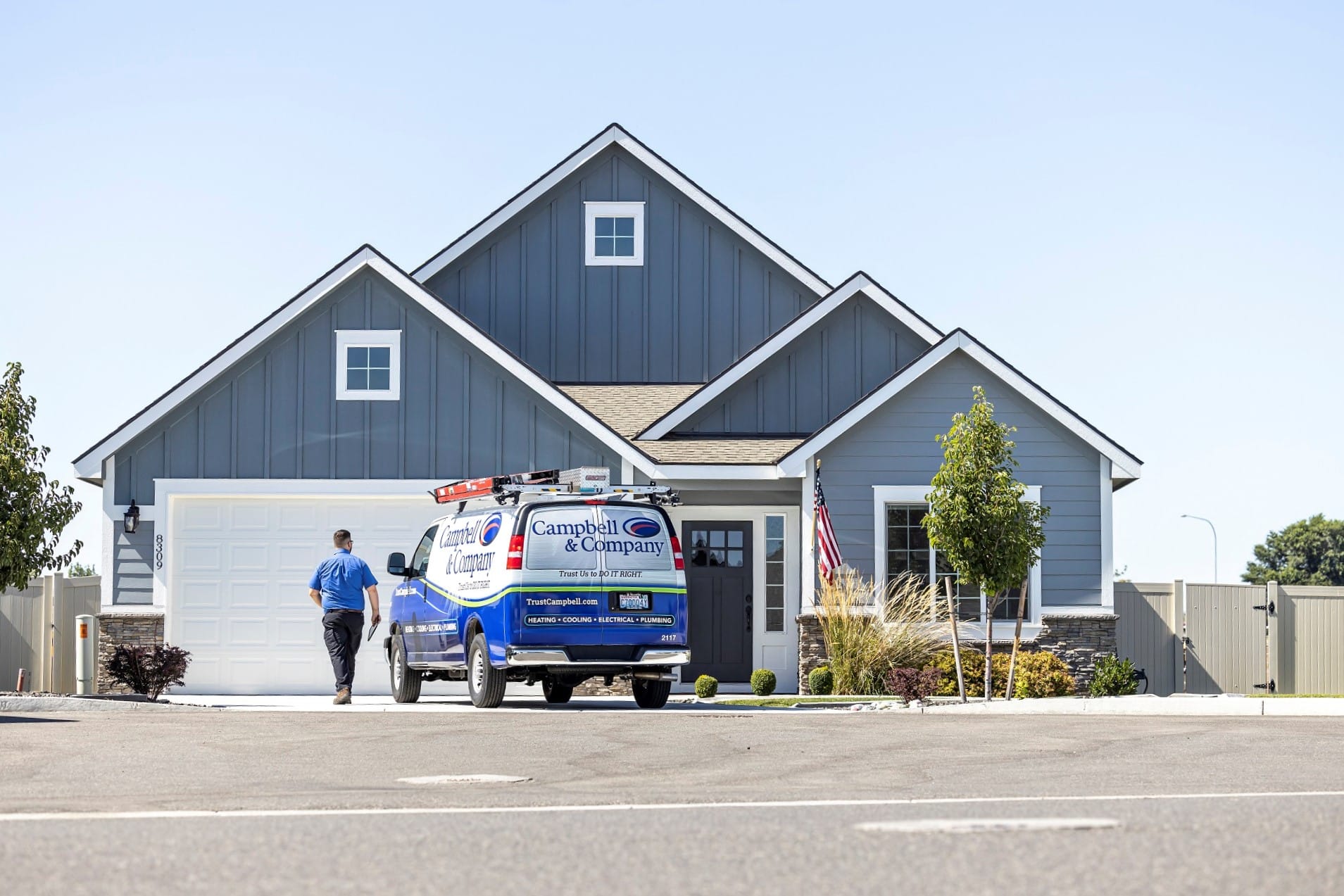 Trust 2,400+ Five-Star Reviews
Signs You Need Heating Repairs
---
Do you smell something funny when you turn on your home's heating system? That's the most common sign that a system needs repair. Other indications it's time to call in the professionals for a heating system repair include:
• Cold Spots: Uneven heat distribution throughout your home, typically caused by either a leaking or blocked air duct
• Utility Bill Spike: Increased utility bills caused by ductwork leaks, poor insulation, improperly sealed grills and registers, and/or damaged or poorly configured ductwork
• Strange Noises: Clanging, banging, or screeching noises caused by trapped air, loose or missing parts, tiny holes or gaps in the ductwork, a worn-out belt, or faulty motor or bearing
Do you notice any of these warning signs in your home's heating system? Campbell & Company is your heating repair experts. Schedule heating repair services today and start enjoying the comfort of the warm home you deserve.
Our Approach to Heating Repairs
---
The first step to getting your home's heating system back up and running is to diagnose the size and severity of the issue.
Before performing any work, our highly trained technicians will take a deep dive into your heating system to identify exactly what issues are inhibiting operation. Our techs will sit down with you and discuss your options.
If repairing the existing heat pump or furnace would be overly costly, we will recommend installing a new heating system rather than repairing the old one.
At Campbell & Company, providing honest and reliable service is a high priority. We do not wish to perform work that will be a poor value to you. If we can help you save money through more educated decisions, we will!
Schedule a Heating Repair
---
If your heating system isn't working at its fullest potential, call now! Our team can be reached at 509-545-9848, and we strongly advise you to contact us as soon as possible.
Allowing a defective heating system to run without proper care could put your home and family at risk. Call Campbell & Company for peace of mind and unmatched comfort!
Choose an Award-Winning Team
Schedule Service Today
---
$99 Winter-Prep Plumbing Inspection
Expires 10/31/23
• Inspection of all exterior hose faucets to make sure they aren't leaking which can cause freezing and bursting • Inspection of water lines in crawlspace for insulation as well as education on foundation vent insulation. • Inspect water heaters for age and proper function • Provide education on what to expect during the winter-time from your water heater.
See All Coupons
---
Save with easy, automatic tune-ups on your equipment.
Join Now
Financing
---
Want to know more about your payment options?
Learn More
---
Save with easy, automatic tune-ups on your equipment.
Join Now
Areas We Serve
Benton City | Burbank


|

Ellensburg

|

Grandview | Kennewick

|

Kiona | Mattawa

|

Mesa


|

Moxee | Pasco | Richland | Yakima